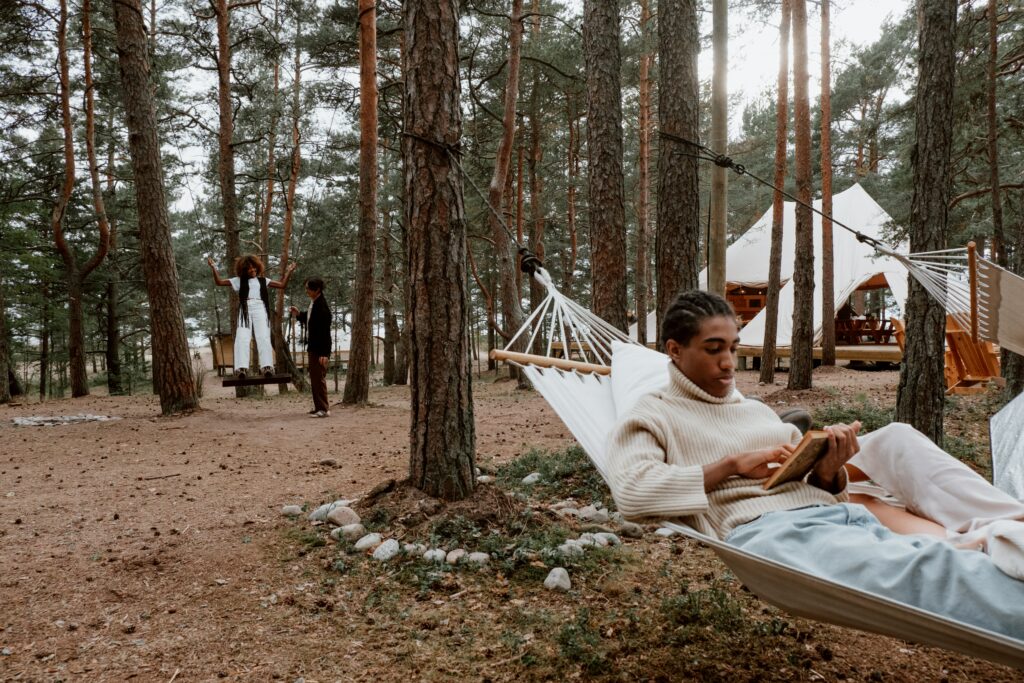 One of the best parts about glamping is relaxing in the outdoors
No matter how much I love camping, there's no denying that it can also be a pain. There's firelight, chilly nights, and plenty of wildlife to keep me awake at night. And even if I bring a tent with me, the glamor of camping fades away when the rain starts to pour. Traditional camping used to mean roughing it out. Making do without electricity, showers, or the internet. But, for those of us seeking the tranquility of nature combined with the luxury of modern-day comforts, there is an alternative. Glamping!
Glamping is such a fun concept. It allows you to get out of your comfort zone and immerse yourself in the great outdoors – in luxury! Some might even say it's priming us for a new lifestyle. One in which the outdoors isn't for disheveled ankles and having to rough it out. It's a  fun way to spend time outdoors and get the most out of nature. But what exactly is it? And how do you do it right?
I've made this glamping guide; so that you understand what it is. I'll discuss how to prepare for a glamping trip. All this to ensure your next one is even better than the last.
What is glamping?
Useful Tips to know
Glamping Websites
Types of Accommodation
Items to bring along
Tips on choosing the ideal location
Leisure items you'll need
What is Glamping?
It's a popular trend in travel. Glamping is a luxury form of camping that has taken the world by storm. It's not hard to see why. Imagine waking up in your tent to find a ready-made gourmet breakfast. Better yet, enjoy a relaxing spa treatment in the privacy of your tent.
Glamping (short for "glamorous camping") is a form of luxury camping.  It combines the best parts of camping with modern amenities like Wi-Fi and hot water. While there's no official definition, glamping usually involves staying in a furnished tent or cabin. These have plenty of space for sleeping bags and air mattresses—and even a bathroom or shower! Glampers often have access to electricity, and they can charge their phones (and even run their laptops). You'll also usually have access to running water (and sometimes even toilets). Meaning meals don't need to be cooked over an open fire every night. But if you want them cooked over an open fire every night, I won't tell anyone!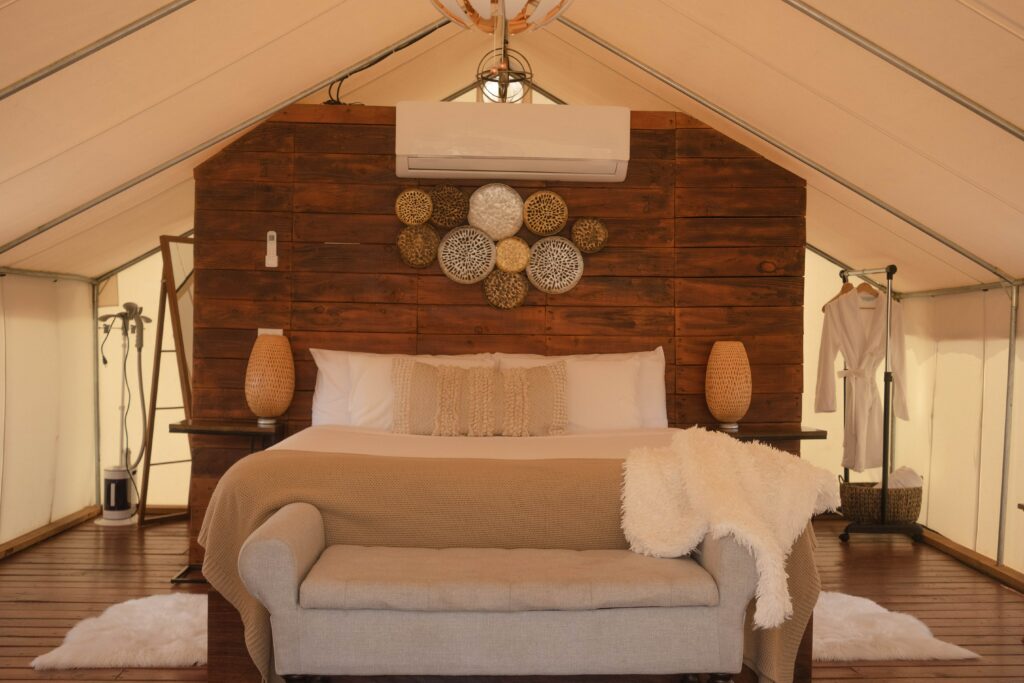 Glamping is an ideal way to enjoy the outdoors in luxury!
Glamping has become more popular over the years
Glamping is not only a trend. It's a popular way to experience the outdoors. Glampers get to enjoy the great outdoors without having to sacrifice comfort.
It's a fun way to vacation, whether you're on a road trip or want to spend a weekend away from the hustle and bustle of city life. You can go glamping in tents, RVs, yurts, and lodgings. But no matter what kind of glamping you try, there are some things you should know.
If you're considering glamping, be sure to do your research. It's good to have a general idea of what it entails. You'll be able to have an idea of what might be most important to you. For example, privacy or access to electricity could be necessary for you. Find out in advance whether the resort or rental company will be able to accommodate your needs.
Glamping Websites
The glamping rental market is expanding and humming with activity. Local and international glamping sites provide unique places for your next trip. You'll find a variety of outdoor lodgings if you're seeking a spot to go glamping that will impress you. A wide variety of glamping accommodations are available on these sites, with thousands of places to visit. Some glamping sites that you can use to find accommodation whenever you desire to go "luxury" camping are listed below.
Accommodations available for Glamping
The glamping rental market is expanding and developing. You'll find different kinds of outdoor accommodations that might blow your mind. From a safari tent with a private bathroom and a king-sized bed to the rustic chic Airstream trailer with a stocked kitchenette. There are many ways to clamp.
Do you want a luxury resort experience or something more off-the-grid? We've got everything you need to make your next camping trip as luxurious as possible. Here are some options you have when you decide to go glamping.
Lodges and Cabins
Enjoy the security of indoors while getting lost in the wilderness! All while enjoying many of the comforts of home. There are cozy house cabins for two or full log cabin lodgings for bigger groups. In places where there are bears or mountain lions, a cabin is a much safer option. If you're looking for a luxury camp, Dunton River Camp In Colorado is a breathtaking camping area. It has scenic views of pine forests, the Dunton River, and a vineyard. It's the perfect place to relax and escape the bustle of city life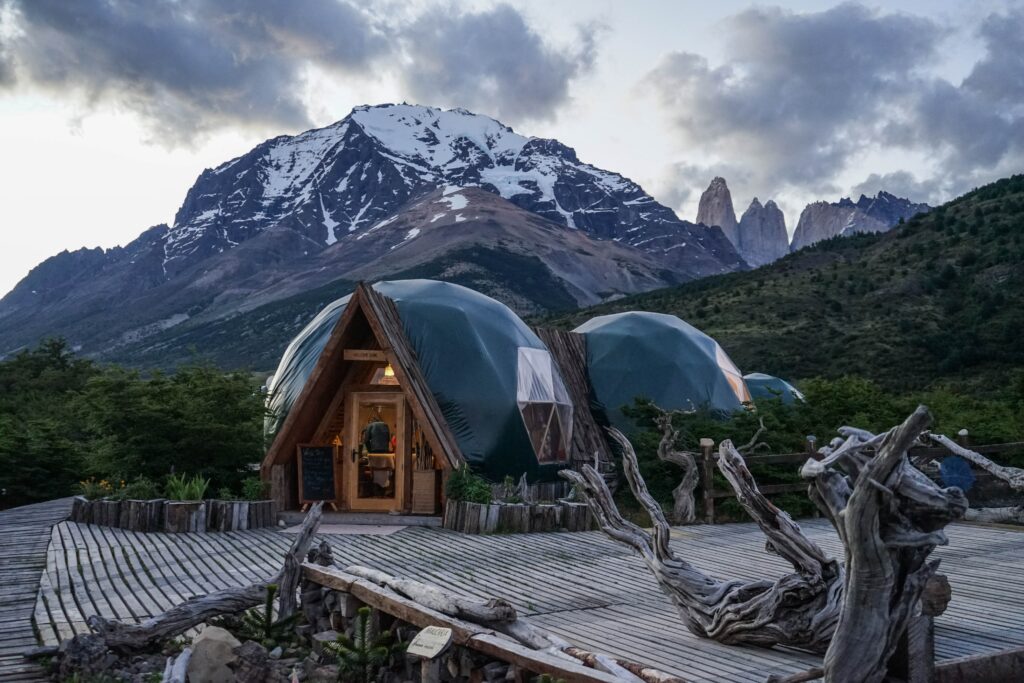 Find a campsite which offers a unique experience
A bell tent or a canvas wall tent
A stylish way to enjoy traditional camping while still feeling luxurious is in a canvas bell tent. These tents are well-liked because of their simple, attractive outside and spacious interior. Sizes, forms, interior layouts, and furniture variations may exist for bell tents. Some are minimalistic, while others are fit for royalty. You can buy tents that are assembled and outfitted for you, or you can rent a canvas wall tent and have it delivered. It's a luxury to arrive at a scenic site and find a romantic bell tent set up. The whole point of glamping is to avoid the hassle of traditional camping. Companies like Exclusive Tents offer tents for hire. These tents are furnished and luxurious. They come equipped with amenities, such as:
Sizable tents
King or Queen sized beds
Complete furniture
Fire pits
Hammocks
Complimentary tea and coffee
Heaters/Fans
Glamping in a treehouse
Glamping in a treehouse is an incredible and unforgettable experience! It's fun for both children and adults, and you may find treehouse rentals online in a variety of sizes. Review your search because different structures are called "treehouses." You might see huts on branches deep in the forest and homes perched above picturesque scenery. Enjoying a good time in a treehouse might also allow you to take a breather from work and responsibilities.
Geo-Dome Camping
It's on my bucket list to stay in a geodesic dome. It's cool and futuristic. You won't have to deal with the elements, all while you sleep under the stars. The circular shape provides space and comfort. And the protective material fades into the surroundings.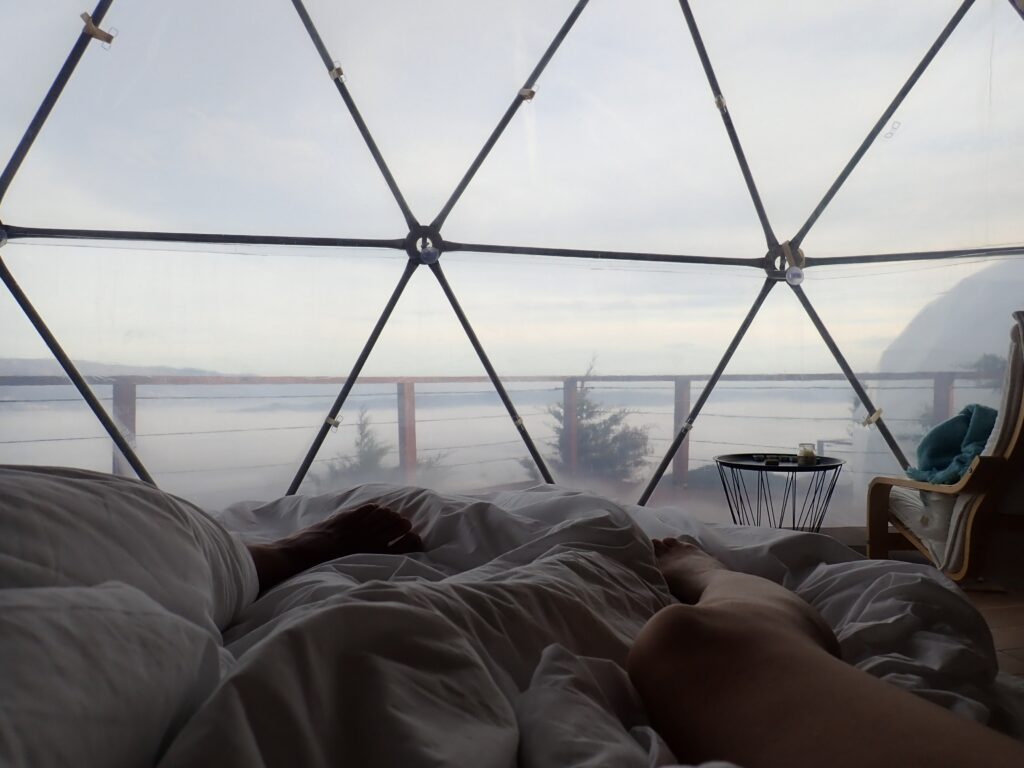 See your surroundings as you relax in a geo-dome camp
Buses, RVs, and Campervans
A luxury RV glamping trip can be as minimal or as luxurious as you like. You can choose from an Airstream trailer, a teardrop, or an equipped 5th wheel. Camping has always been enjoyable with RVs. It gives people a feeling of being right at home. Campers in contemporary RVs desire both comfort and style. Nowadays, recreational vehicles are all about expressing individuality and fitting in as many comforts as possible. These mini homes on wheels have comfortable mattresses, modern furnishings, and kitchen items.
Remote Glamping Sites
Most glamping sites are set in rural areas, where you're closer to nature and have fewer neighbors around. You'll have access to all the comforts of home (at least those that fit in your tent). And access to electricity, running water, heat, and air conditioning. Many glamping sites offer extras like hot tubs or even swimming pools!
Guests usually stay in tents or yurts rather than cabins or bungalows. These structures allow for more personal space—while remaining true to the nature of glamping as a form of luxury camping. Most glamping sites offer some fun activities for kids and adults.
You can enjoy glamping in several ways. There are some items needed for all glamping experiences. Most of this applies to those using an RV or tent. For lodges, most utilities are part of the package. Here's a list of items you might want to carry so that you enjoy a comfortable glamping experience:
Bring high-quality pillows and blankets
Having good quality sleep is of utmost importance. Especially while on vacation and out glamping. Proper rest will help you function better and have a positive experience. If you're using an RV or tent, you'll need to bring some comfy bedding. Some comfortable Egyptian cotton or silk sheets would be perfect. You'll enjoy the best of both worlds as you're immersed in nature, all while enjoying home comforts.
Be sure to have a cooler
If you're planning to go glamping in summer, you'll most likely want to enjoy some cold beverages. Since you can't bring your fridge with you, have a cooler. You should be able to buy or find ice, depending on where you'll be camping. Adding it to your cooler will keep your champagne ice-cold and refreshing.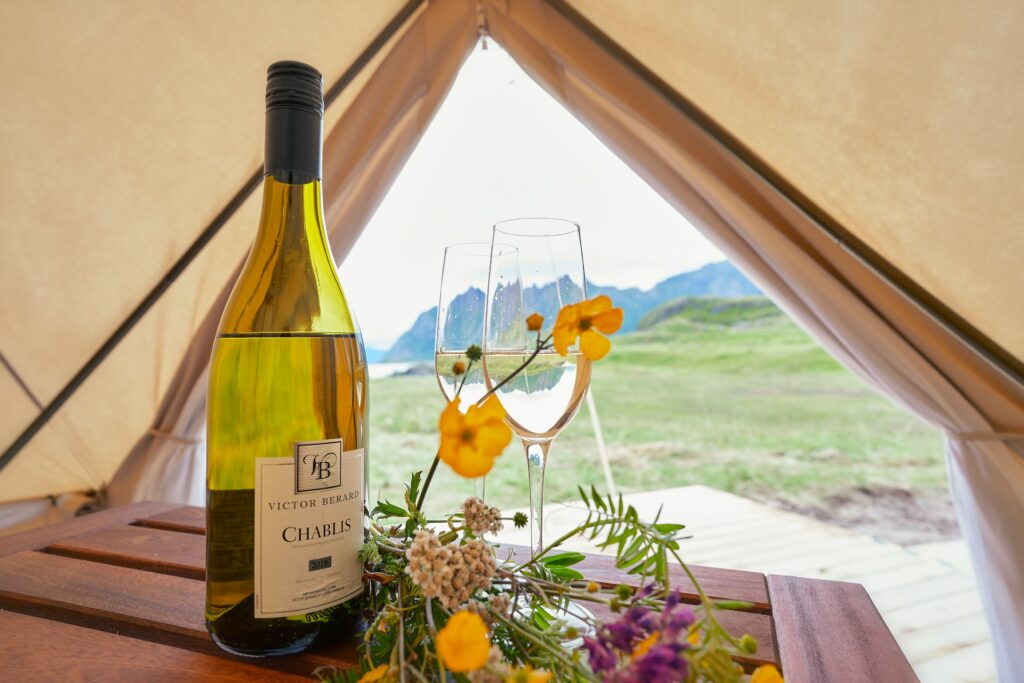 Bring a cooler to keep your wine nice and cold
Use solar-powered lights
These days, using solar has become popular and eco-friendly. The best part is that you'll be able to charge them during the day using the good old sun. Some solar lights can charge phones, killing two birds with one stone.
Pack candles, but be careful with them
Candles are ideal for glamping. They can be a great source of light at night or a romantic setting for you and your partner. Most of us already have candles in our homes, so it might be something you don't need to buy. If you're into scented candles, you can use them to add more luxury and to feel at home. Be careful not to fall asleep while using candles. Avoid leaving them around unattended young children.  
Consider an outdoor shower option
To make showering easy, you could use portable camping showers. These are available online and at some local department stores. Install the shower DIY. Then you're good to go! Showering in the great outdoors will also be a fun experience. Try to keep an eye out and ensure you have enough privacy.
Use a cook stove or camp stove
If you plan on cooking, a camp or gas stove is something you'll need to carry. If you don't want to use fire, you could bring a stove to make cooking fun and easy. Campfires are for warmth, roasting marshmallows, and telling stories. For a luxury RV kitchen, you'll need to stock up on everything you need. Carry salt and your favorite spices to ensure meals taste like home-cooked meals. If you enjoy a good cheese board, bring some cheese, snacks, fruits, and cold meats to make one.
Don't forget the chairs!
This one's a no-brainer! Most outdoor activities need you to bring some camping chairs. For glamping in a cabin or lodge, this won't be necessary, but if you're using an RV or tent, you'll want to bring some chairs.
Useful Tips
A challenge with glamping is that to be around nature means being far away from convenience.  Here are some tips to make your next glamping trip as easy as possible:
1. Camp near an urban area
There are so many options for camping sites and locations. You could find an area located near your neighborhood or close to an urban area. Then, you'll still enjoy glamping and the outdoors, all while having access to commodities. No need to worry about having poor phone reception either!
2. If you have kids, try it out in your backyard
A great way to try out glamping with your family is by using your backyard. There's no need to pack. And no need to worry about leaving something important behind! It will help you train your young ones and toddlers before trying out the real thing. And it will be a great way to use your backyard, especially if it's spacious.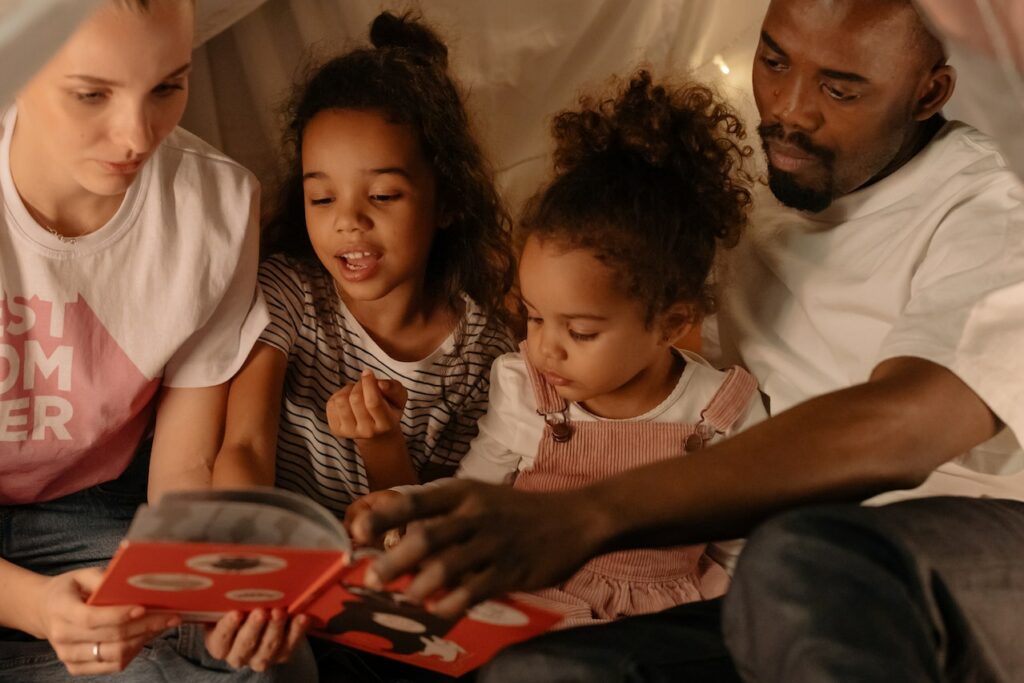 Use your backyard to have a glamping experience with your family
3. Bring extra supplies from home
The best solution is prevention. To avoid running out of necessary supplies, make sure to carry more. I recommend bringing extra water, toilet paper, food, and bedding. Extra clothes and outfits would be ideal. It's glamping—not roughing it out in the same musty gear. Don't forget to bring a first aid kit. After all, you never know what could happen. If your car or RV has enough room, take more than needed to avoid any problems.
For Entertainment Purposes, What Could You Bring When Going Glamping?
Entertainment! Books, games, podcasts, movies. Whatever gets you through those long nights when everyone else is asleep! If you have an iPhone and some speakers, you can get a battery-powered projector to watch movies. These will be useful for others if they forget their things. Plus, if you stop or switch shifts, you'll most likely want something to do when taking breaks from driving. Maybe the goal is to take a break from city life and technology. You could bring books, arts and crafts, board games, and cards.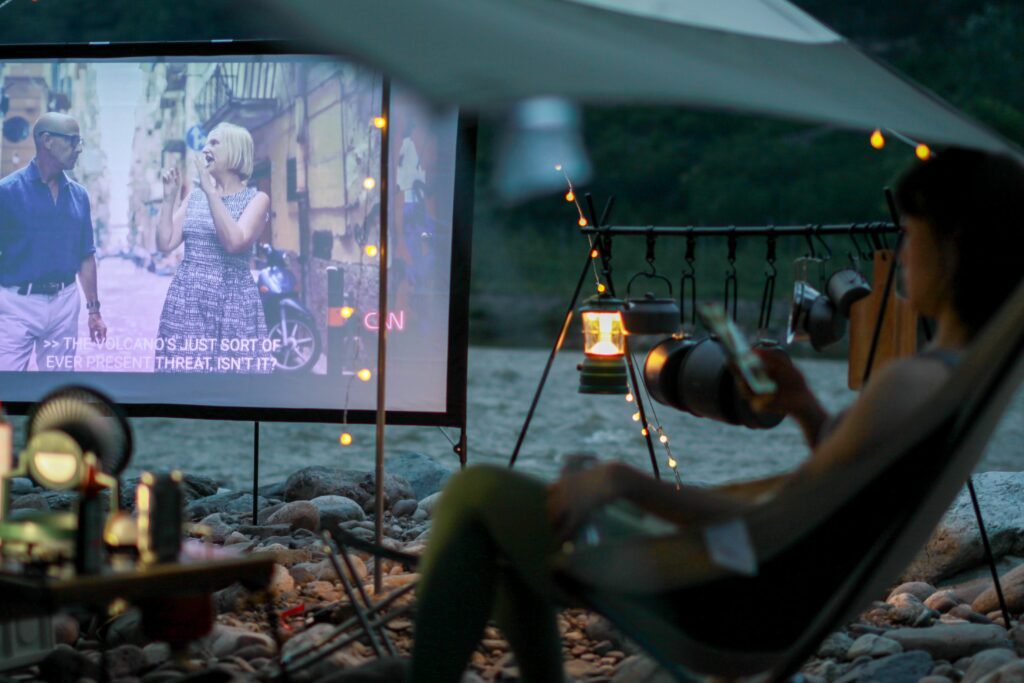 Enjoy your favorite entertainment while glamping
Takeaway: Glamping is camping elevated!
It's all about enjoying the best parts of traditional camping while living in luxury. Nature and the outdoors are always fun to experience, but living like a Boy Scout is far from easy. Glamping mixes the best of both worlds and creates the ultimate experience.
Conclusion
Is glamping the wave of the future? Most likely. While it may not be for everyone, the luxury camping market shows no signs of slowing down anytime soon. There are plenty of places to go glamping. From luxurious lodges tucked away in tropical settings. Or remote mountain-top cabins with all the necessary comforts. Just like regular camping, glamping is a great way for you to bond with family, friends, or children.
So what makes glamping so popular? It has three things that many people love: campfires, the great outdoors, and, you guessed it—luxury! Maybe you, your partner, and a group of friends thought of trying it out. You're sure to have a great time; and unique experiences. I hope this article has given you some inspiration. Be it making the most of your camping experience to choosing the best sites. I have shared my top tips and tricks. I hope that you enjoy the perfect weekend away every time.